Costumes







Yates also did an extensive amount of research in creating the widely varied wardrobe for the film, ranging from the resplendent armor worn by Maximus and Commodus, to Lucilla's exquisite gowns, to the relatively plain tunics of the gladiators.

"We must have looked through thousands of books, and visited dozens of museums and galleries," Yates offers. "We were greatly inspired by the works of artists like Sir Lawrence Alma-Tadema, who really captured the style of the period, and George de La Tour, from whom we got ideas for textures and the finer details."

"We leaned very heavily on these artists, not only for costumes, but interior designs as well," Scott agrees. "Painters are often the best reference you can have. When you think about it, they are the photographers of their time."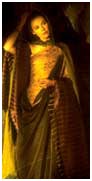 The costumes of the emperor's family were naturally the most elaborate. Connie Nielsen's gowns were almost all hand-embroidered silk, with gold thread woven into the fabric to give it a shimmer. Her winter cape was made of cashmere, lined with silk and trimmed with faux fur.
All of the footwear was handmade in Rome, including the decorative sandals of Commodus and Lucilla, which were also hand-embroidered. The intricate designs of the royal jewelry were faithful to the fashion of the time. They were all handcrafted by England's noted jeweler Martin Adams, with the exception of one piece, which Nielsen herself contributed.
"In an antique store, I found a 2,000-year old signet ring," Nielsen relates. "Wearing it made me feel more connected to the part. It was incredible to think that the ring was once worn by someone who actually lived in the time we were recreating."
The wardrobe had a similar effect on Joaquin Phoenix, who comments, "The minute I put the costumes on, I felt like I was in a completely different world. It was fantastic. After a while, they didn't seem like costumes; they felt natural, which really helped me become my character."
Like Nielsen, Phoenix was clothed in tunics and cloaks of silk, though his armor was decidedly less comfortable.

"His armor had to be malleable to allow for movement, so it was made of rubber and then covered in leather," Yates reveals. "You can imagine how he felt in the hot sun of Malta." Yates created Commodus' stunning white armor ensemble to look like marble, based on Ridley Scott's thought that Commodus was trying to echo the statuary of his predecessors.
The physical demands of Russell Crowe's role required that his armor be much lighter, so they were made of foam covered in leather. In addition, every piece of his armor-including breast plates, helmets, leg armor, arm armor and more-had to be duplicated 12 times over in various stages of wear for Crowe, as well as his stunt doubles. "There were different versions of each costume as scenes progressed: clean…dirty… torn…bloody… You get the picture," Yates laughs.
The costume department also fashioned 500 gladiator tunics in rough linen, which each had to be distressed. In all, Yates, along with wardrobe supervisor Rosemary Burrows, assistant designer Samantha Howarth and their crew had to fashion more than 10,000 costumes for the speaking cast and the thousands of extras.
Burrows was also responsible for setting up wardrobe facilities-what Yates called "costume villages"-which were used for warehousing, and for giving up to 2,000 extras per day the space in which to dress and have their hair and makeup done. In England, this included mud baths for the soldiers, in order to provide the proper amount of battle grit.


Back to Behind the Scenes