Soldiers, Sovereigns and Senators







The filmmakers knew that the actor chosen to portray Maximus-the general-turned-gladiator whose popularity does threaten the power of the emperor-was key to the success of the project. "Maximus is the very soul of the movie," Wick affirms.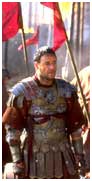 "It was crucial to find an actor who you could believe possessed the ferocity of this great warrior, but in whom you could also see a man of strong principle and character. Russell Crowe's name came up pretty fast. His intensity, his dignity and his utter conviction in every role he undertakes made him everyone's first choice."

Starring as Maximus, Russell Crowe takes on a decidedly different role from his OscarÔ-nominated turn in "The Insider." "He went from being a paunchy, middle-aged man to a gladiator-not bad," Scott jokes, adding, "In other words, he's a real actor. Russell has an uncanny way of internalizing a role, and he's naturally very physical, which was a perfect combination for the part."

For Crowe, "Gladiator" presented the prospect of helping to re-establish a film genre, while collaborating with a director he had long admired. "It's been a long time since a film has been made on this subject matter. It's an incredible period. The achievements of the Roman Empire were remarkable, but they were underscored by absolute brutality, which fascinates people to this day. The film was also an extraordinary opportunity to work with Ridley Scott, one of the great visual artists of our time, and to play a character who undergoes such a remarkable journey," the actor says. "He's a general in the army, who, when we meet him, has been away from his family for three years, but he's done his duty and he's had enough. He wants nothing more than to go home, but the story changes for him when the emperor he loves and serves dies. Maximus goes from being a great general to being shackled and sold into slavery as a gladiator-a slight change in lifestyle," he smiles.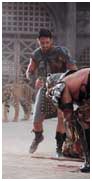 "He was a military man who fought for honor and the glory of Rome, but now he has to bring himself to kill on a much more base level. For a while, he lives only to stand in front of the new emperor and exact his revenge, but he is again caught up in the political turmoil of the day, and can't help but become involved. For want of a better expression, he's a good man."
The man upon whom Maximus seeks his revenge is Commodus, who becomes the emperor of Rome upon the death of Marcus Aurelius. It was important to the drama that Maximus' strength be counterbalanced by an equal measure of power on the part of his adversary-albeit another kind of power. The filmmakers found what they were looking for embodied in the quiet intensity of Joaquin Phoenix.
Ridley Scott had previously worked with Phoenix when he executive produced the film "Clay Pigeons," in which the actor had starred. "When we offered him the part, I think the most surprised person was Joaquin himself," the director says. "He is not the physically imposing type one might have envisioned in the role, but he conveys the complexities of this corrupt ruler in a very courageous way. He exposes the vulnerability that is juxtaposed with the ruthlessness of Commodus." The mercurial quality of the part was only one of the incentives for Phoenix. "Between the script and the cast that was being put together, I felt the film had a great deal to offer. Talking to Ridley, I could see that this was going to be a movie of great spectacle and scope, but also one that allowed for a character-driven story," he notes. "Commodus is a character I really enjoyed exploring as an actor," Phoenix reflects. "I think the best way to describe him is as a spoiled child. He's 19 years old, but wields an incredible amount of power, so he has all the emotions that go with being that age without having had the guidance he needed to handle that power. He's vulnerable and sad one moment and throwing a tantrum the next. He desperately wants the love of the people, but the irony of the story is that the gladiatorial games he decrees to get the masses to love him are ultimately what bring his nemesis to Rome."

The person closest to Commodus is his sister Lucilla, played by Connie Nielsen. "We spent a long time looking for the right actress to play Lucilla," producer Branko Lustig recalls. "When we saw Connie, we knew we had found her. I had the feeling I was watching a young Sophia Loren in 'The Fall of the Roman Empire.' She is a wonderful actress, and had the presence we needed in Lucilla." "The script completely gripped me," Nielsen offers. "There are colossal elements, like the setting and the battles, and yet the story is very intimate in how it brings you into the personal relationships between people, especially in the case of Lucilla. She is caught between the ambitions of her brother and the will of Maximus, with whom she has a past." "It's interesting that we generate a lot of history between Maximus and Lucilla without ever really going into it," Scott expounds. "We gather it was a romance that had gone wrong, but I like that exactly what happened between them remains obscure."
Nielsen was also fascinated by Lucilla's ability to operate within the mores of the day. "Lucilla lives in a time when women did not have a voice, at least officially," she says. "But she is her father's daughter, and has been raised in the center of much political intrigue, so she is definitely capable of using whatever is at her disposal to survive. She would like to be the moral compass for Commodus, but he won't allow that, so she has to resort to the subtleties she learned growing up. In many ways she loves her brother, but she is also fearful of him and even more afraid of the power he holds over her son Lucius."
The main cast of "Gladiator" includes several respected veterans of the stage and screen, including Richard Harris as Emperor Marcus Aurelius; who understands the depths of his failings as a father too late to save his empire from tragedy; Derek Jacobi as Senator Gracchus, who sees the corruption of Commodus' reign; and the late Oliver Reed as the gladiator trainer Proximo. "These actors are of a generation that experienced some of those earlier epics first hand, particularly Richard," Scott says. "It was a thrill for me to have an opportunity to work with them, and all the more interesting to revisit the genre with them."
The admiration was mutual. "It's a great gift for an actor to work with a director like Ridley Scott, who is so in command of his craft," Harris says. "It was also a smashing part for me, because I love playing introspective characters. Marcus is a man in crisis, wrestling with demons. He was a scholar and a philosopher, but he spent 16 of his 20 years as emperor fighting battles and spilling blood to expand the empire. Now nearing the end, he has come to the realization that his life was a fraud."
In his last screen role, Oliver Reed plays Proximo, the man who teaches Maximus the advantages of a being a gladiator who wins the hearts of the crowd. It is at Proximo's training camp that Maximus also learns important lessons about life and death from another enslaved gladiator, Juba, with whom he develops a strong bond.
Djimon Hounsou, who plays Juba, says of his character, "Juba knows that being a gladiator means killing or being killed. He is a very skillful fighter, which enables him to stay alive physically, but he knows a way to stay alive mentally and spiritually as well. In his mind, he is with his people; his loved ones are there, waiting for him. That ability to find freedom in your mind is something he tries to share with Maximus."


Back to Behind the Scenes