The Story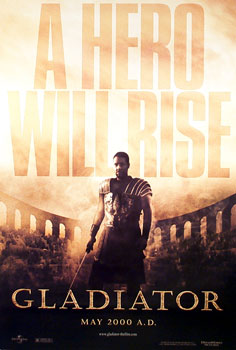 It has been four decades since chariots raced and swords flashed across movie screens in epic dramas of a time long past. Now, director Ridley Scott brings the glorious battles of the ancient Roman arena back to the big screen in a sweeping story of courage and revenge.


The great Roman General Maximus (Russell Crowe) has once again led the legions to victory on the battlefield. The war won, Maximus dreams of home, wanting only to return to his wife and son; however, the dying Emperor Marcus Aurelius (Richard Harris) has one more duty for the general to assume the mantle of his power.

Jealous of Maximusí favor with the emperor, the heir to the throne, Commodus (Joaquin Phoenix), orders his execution and that of his family. Barely escaping death, Maximus is forced into slavery and trained as a gladiator in the arena where his fame grows. Now he has come to Rome, intent on avenging the murder of his wife and son by killing the new emperor Commodus.

Maximus has learned that the one power stronger than that of the emperor is the will of the people, and he knows he can only attain his revenge by becoming the greatest hero in all the empire.

DreamWorks Pictures and Universal Pictures present "Gladiator." Oscar nominee Russell Crowe ("The Insider") heads up an international cast that includes Joaquin Phoenix, Connie Nielsen, Oliver Reed, Derek Jacobi, Djimon Hounsou and Oscar' nominee Richard Harris ("The Field").

Academy Award -nominated director Ridley Scott ("Thelma & Louise") directed "Gladiator" from a screenplay by David Franzoni, John Logan and William Nicholson, from a story by Franzoni. The film is produced by Douglas Wick, David Franzoni and Branko Lustig, with Walter F. Parkes and Laurie MacDonald serving as executive producers.